Surgical Brushed Finish Cufflinks with Black Rubber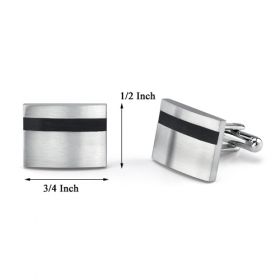 Price: $79.96
Model: 19025
Description
Surgical Stainless Steel Rectangular Brushed Finish Cufflinks with Black Rubber
Call for Purchase
---
The perfect pick for a fashion connoisseur, nothing will accentuate your refinement and attention to detail more, than a pair of elegant Cufflinks. An accessory that spans eras has smoothly propelled your style into the 21st century. These sleek Cufflinks, highlighted with rich Black Rubber stripes are crafted from 316L Surgical Stainless Steel. Surgical Steel emulates the richness of precious metals and ensures a Promise of Forever, defines Strength, will never rust, corrode or discolor nor lose its Timeless charm to tarnish. You can feel safe when you wear these Surgical Steel Cufflinks that are completely Bio-compatible and you will be confident that your stylish look will be perfect for every occasion and activity. The Bullet Back closures ensure ease of use and elegance. Dimensions: Length: 3/4 inch x Width: 1/2 inch.
Let's Start a Conversation
Like all relationships, it starts with a simple conversation.